Here are some photos and information about our locomotives!
SP4870 (formerly UP2056) USA Trains Gp38-2
Today 
(September 2021) the Camarillo Pacific Railroad (took delivery of a new/used unit from the Union, Southern & Santa Fe Railway. The US&SF is a double track bridge route built to handle traffic of the major southwestern railroads from Spencer Jct. and out to Binthair and Dunthat. With a small yard and shops in Union City, it also handles some light industry, freight transfer and military traffic.
After the demise of the Union Pacific Railroad in 1996 (fully merged into the economic powerhouse that is the Southern Pacific), many UP locomotives began rolling into the fabled and legendary Southern Pacific Sacramento Shops to receive new paint and renumbering.  However, with such a large fleet to get a makeover the task was more daunting than originally thought.
At first, full paint jobs were par for the course. As numbers fell behind and motive power crunch loomed, management put pressure on shop forces to turn out more product.
Shop crews feeling always behind the "8 ball" performed a work slow down to counter act management's on going harassment. The Unions stepped in to mediate a solution and simple solution was agreed upon. Locomotives would be "patched" painted receiving only new road numbers, an obliterated "UNION" replaced with a Rio Grande inspired "Southern" script on the long hood, the trademark "SP" and simplified bloody noses. Some of this work would also be contracted out to other railroad's shops.
That bring us to the story of UP2056. After the merger, this unit toiled on in obscurity performing every "red-headed step child" task the Espee could throw at it. Mainline, yard, local freight, you name it, it did it and always 100  plus miles from any wash rack.
It saw many torturous miles over both the Donner and Tehachapi Passes evident by years of diesel soot on its armor yellow paint.
Then came the day when the Sac Shop foreman reported that all former UP locomotives had been either fully made over or patched except the 2056. Nobody new where it was. The Espee put out a call to all station agents, industries and short line feeder routes to search out the elusive unit. A call came in one afternoon that a lone rather dilapidated UP GP38-2 had broken down while delivering interchange traffic to the Camarillo Pacific Railroad. It's crew left it at the CPR yard with the intent it would be repaired in place by Espee forces. 
The unit languished on CPR property for what seemed like an eternity awaiting for it to be repaired. A little tired of it being in the way, CPR switch crews eventually moved it onto a maintenance spur. The Espee shop crew finally came out to inspect the damage and decided it was to large for a field repair. They also noted it was the lost 2056, the last unit in full UP paint, and reported it to the Sac Shop foreman.
It was decided by Espee officials to move the unit to the nearby US&SF Railway shop which had also performed contract work for the Espee in the past particularly applying paint jobs to former UP engines. There repairs would be made and it would unceremoniously receive the last "patch" job furthermore degrading its former identity.
Seamus "Bubba" McGillacuddy was given the task of "sewing the patch". Never, being the one to follow attention to detail and always racing for that "early quit", he haphazardly went about changing the identity of the venerable unit. The grease and grime barely wiped away, dark lark gray and scarlet red paint were hastily applied with white letters and numbers. UP2056 faded into railroad blues reintroduced to the world as the SP4870.
The 4870 emerged from the US&SF backshop on a September Sunday afternoon and set out to the Spencer Jct. interchange track by the extra board yard crew. The next Monday afternoon the unit was picked up by a mainline crew of a general merchandise drag and whisked away.
Being assigned out of the SP Bayshore Yard, It is rumored that the legendary 4870 now relaxes in local freight service often seen delivery carload back at the Camarillo Pacific Railroad where it once sat "lost", but then again found.
SP 4844 USA Trains GP38-2
Acquired in 2004
Converted to Airwire Battery Control in 2012
SP 5780 USA Trains GP9
Acquired in 2006
Converted to Airwire Battery Control in 2015
SP 8475 USA TRAINS SD40-2
Acquired in 2010
Originally Equipped with LocoLink Battery control
Converted to CVP Airwire Battery control in 2014
SP #22 USA Trains 44-Tonner 
AKA "Yard Goat"
Acquired in 2017
Converted to CVP Airwire Battery control in 2017
CPRR 2-4-0 #4 "Alice" (formerly Ruby #1)
Alice is the Camarillo Pacific Railroads first live-steam locomotive. This engine was acquired in early 2002 and started out as a regular starter live steam locomotive Ruby #1. After many years of use and 7 years of "abuse" Ruby #1 became inoperable and too expensive to repair or rebuild under the railroad budget. For many years Alice was kept in storage until further notice.
In October 2011 Ruby was sent to a small locomotive shop in Woodside to be examined for repairs and a potential update. The Camarillo Pacific Railroad and the Locomotive shops in Woodside came to an agreement for getting this locomotive to run.
Ruby #1 was renamed to Alice #4 and converted from an 0-4-0 wheel arrangement to a 2-4-0 wheel arrangement. Alice was fitted with a scratch built pilot, diamond smoke stack, detailed domes, a tender, reworked controls, numerous detail parts, working electric headlight, and a full paint job.
Alice is the Railroads Pride and Joy
CPRR 0-4-0T #1  "Bill"
Acquired in 2018
*awaiting radio control conversion*
CPRR 3 Truck 55Ton 3-Truck Shay #7
Awaiting removal of "Meadow River Lumber Co."
Acquired in 2019 with CVP Airwire Preinstalled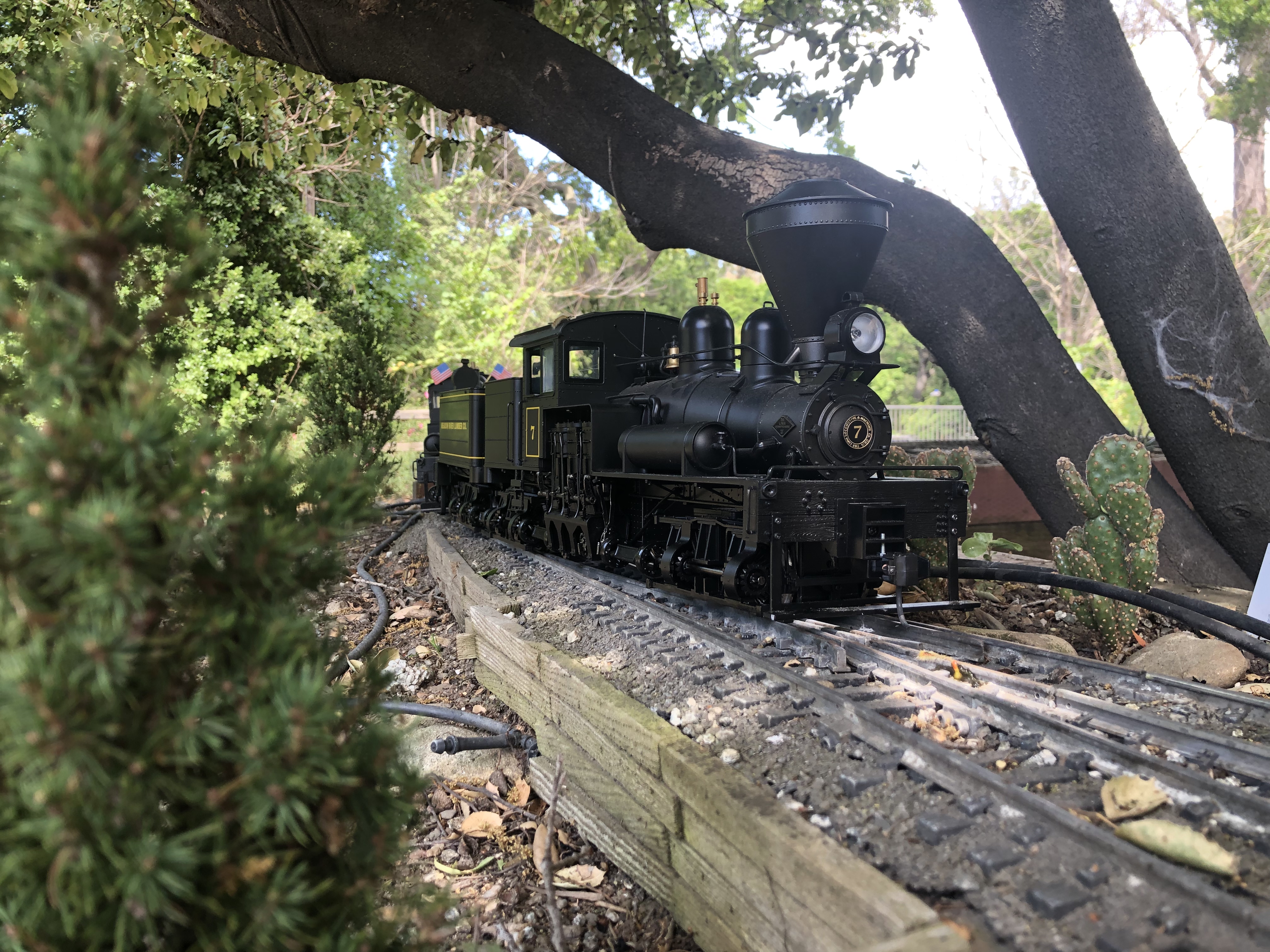 Narrow Gauge Mining Locomotive
Acquired in 2014
Total Page Visits: 2641 - Today Page Visits: 3